2012–13 Season Recap
April 14, 2013
In the team's eighth full AHA Winter season, and second at the C3 level, the Spiders finished the regular season with a 11–9 record (22 of 40 possible points), in fourth place in C3 East. It was the team's lowest regular season point total since 2009–10.
The Spiders also made their fifth consecutive post-season appearance, where they went went 0–2–1 (1 point), tying the Moose, and losing to the Wingmen and eventual C3 champion Gold Rush. It was the team's worst playoff showing ever, as the team had always earned at least one win in each of their five previous post-season appearances, including Beginner School.
This was the team's sixth winning season, with 2011–12, 2010–11, 2009–10, 2008–09's D1 Champion squad and 2006–07 representing the others.
Regular season standings: 11–9–0–0, with 22 points.
Post-season standings: 0–2–1, with 1 point.
Full season standings: 11–11–1–0, with 23 points.
As is the Spiders' club tradition, like last year's season recap, here are the season's notes and numbers:
Note: Although the Spiders saw post-season action this year, this recap focuses on the regular season, with playoff stats indicated in italics.
Team stat highlights
Goal stats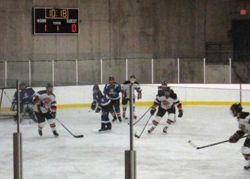 Results stats
Shots stats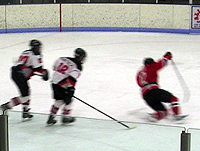 Penalty stats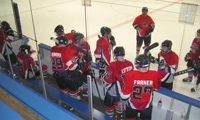 Bench stats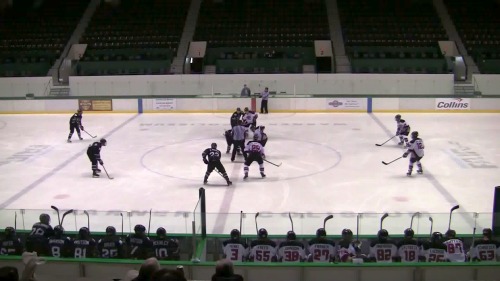 Arena stats
Schedule stats
Player stat highlights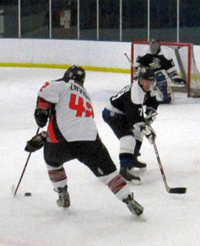 Scoring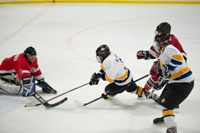 Penalties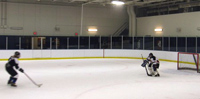 Goaltending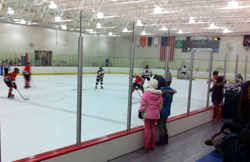 Attendance
Top 10 'most shocking' headlines of the season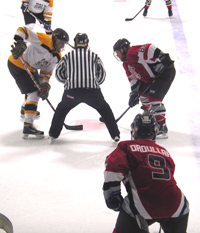 The Spiders franchise has been around long enough to have seen most everything there is to see in an AHA season. But there was the occasional surprise this year:
Fighting Saints claim first-ever win over Spiders, and go on for season sweep on way to C3 Final (where they got shut out 7–0).
Spiders and McCormick notch 5–0 shutout against Mastodons, the eventual second-place finishers in C3 East (tied for first).
No penalties called on last season's leading PIM king Ak Bar #47 Zakharov in Ak Bars/Spiders game, Dec. 15, 2012.
Chris Pettengill called for delay of game (including penalty shot) after he volunteered for goalie duty for the last minutes of Mastodons game, Jan. 2, 2013.
Most infractions committed in a single shift with no penalties called, #25 J. McDonald, IceDogs, Jan. 7, 2013.
Spiders actually beating the first-place Moose 2–1 at the Coliseum, Feb. 17, 2013, to stay in playoff race.
IceDogs tie Sled Dogs in last game of season, March 16, 2013, ushering Spiders back into playoffs.
The analstats may be anal, but they apparently predicted the exact final standings outcome as early as Week 4 of the season. (Thanks to the C3 Moose for keeping track all season...)
The Spiders tied the highest-ever average number of skaters on the bench this season since the D2/C2 split, at 14.3 skaters per game.
The Spiders gave up their highest-ever number of empty-net goals (not counting the infamous Jets game) this season, 5 in the regular season, and another in playoffs.
Goal-scoring leaders
David Lavigne

#4 (two-way tie), 15 goals
Assist leaders
Eric Grotbeck

#8 (three-way tie), 11 assists
PIM leaders
David Lavigne

#9 (three-way tie), 16 PIM
Goal-scoring leaders
David Lavigne

#6, 15 goals
Assist leaders
Jason Freed

#6 (five-way tie), 13 assists
PIM leaders
David Lavigne

#4 (four-way tie), 22 PIM
Opponent leader board – regular season
Who had the Spiders' number — to rack up their own numbers — this season?
Point leader
#37 P. Sinesio, Diablos

5 points

#26 N. Aunan, Sled Dogs

5 points
Goal-scoring leader
#37 P. Sinesio, Diablos

4 goals
Assist leader
#26 N. Aunan, Sled Dogs

3 assists

#72 G. Johnson, Fighting Saints

3 assists
PIM leader
#19 S. Hagel, Fighting Saints

2 penalties/15 PIM
Goaltending leader
#13 J. Stone, Fighting Saints

.943 save percentage/1.67 GAA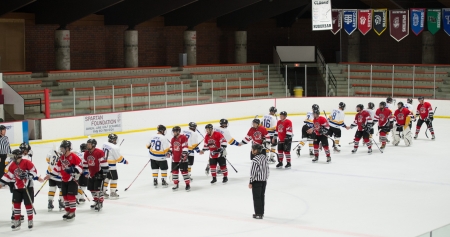 Game-by-game stats