Coaches
This page lists those who have coached the Spiders before and during the 2005–2006 season. We thank them all for generously giving of their time, wisdom and encouragement.
Austin Lindstrom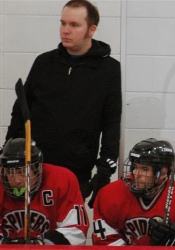 Austin has helmed the Spiders' bench on numerous occasions, and has directed many of our team practices.
When he's not coaching the Spiders, he can be found playing with his D1 and C2 AHA teams, and working as the D2 Tier Administrator for the AHA.
John "Buzz" Bazzachini
Buzz helped the Spiders get up and running this season with pre-season coaching and chalk-talks, advising on lines, positioning and playing style.
Buzz is now in his first year as head coach for the St. Olaf College Women's hockey team after spending last season on board as the Hamline University assistant men's coach. He spends eight days a week on the ice running clinics for all ages — including adult men's and women's programs. And please visit John's site: John Bazzachini's Hockey Development – Buzz Hockey.
Chris Trinh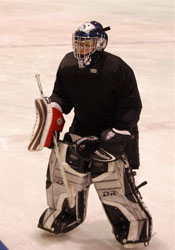 Chris has been a valuable asset — and great friend — to the Spiders, both as our sub goalie and as a bench coach. Chris primarily plays with the Enken Bears hockey club, and is also the goalie for the Jets in D2 East. Chris has strolled the Spiders bench a couple times this season, and has been a tremendous help during practices and scrimmages.
Coach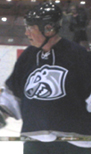 Yes, his name is really Coach. (Well, it's Lee Lindquist ... Dan's dad.) Coach is a member of the Enken Bears hockey club, and has provided valuable drills, skills and scrimmage coaching to the Spiders and the D2 West Ak Bars.
Dan Lindquist
Dan is also a member of the Enken Bears hockey club and, along with his dad, Coach (see above), has provided great team and individual coaching to the Spiders.