2010–11 AHA D1 Spiders
You're viewing the Spiders' archive. For the latest on the Spiders, check out our current season, or see all seasons.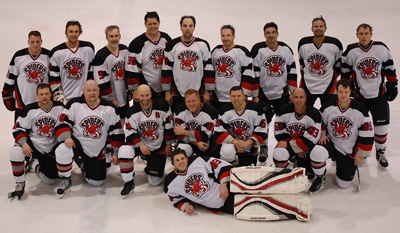 Intro
The D1 Spiders' 2010–11 season, their sixth full season competing in the AHA Winter League. The Spiders went an improbable 19–0–1 in the regular season, locking first place in D1 West, and grinded through playoffs, going 3–1, including a shootout winner in the semi-final. In the final, the Spiders had no answer to the Lumberjacks and lost 4–1.
D1 Spiders Standings Summary

| GP | W | L | T | OTL | P | GF | GA | PIM | Last 5 |
| --- | --- | --- | --- | --- | --- | --- | --- | --- | --- |
| 25 | 22 | 2 | 1 | 0 | 45 | 131 | 58 | 126 | 3–2–0 |
The latest:

Box Score – 4/10/2011

| Team | 1 | 2 | 3 | F |
| --- | --- | --- | --- | --- |
| Spiders | 0 | 0 | 1 | 1 |
| Lumberjacks | 3 | 1 | 0 | 4 |