Spiders down Flying Hellfish with double digits
March 8, 2020
It was the Spiders' offense that was doing most of the flying on DST Day.
Despite illness, injury, travel, kid hockey, etc., the Spiders dressed 13 skaters to squeeze onto the extremely narrow Eden Prairie rink 1 player bench, now that it was no longer needed by the actual home team Eden Prairie Eagles thanks to their TheTourney20 MSHSL loss to Hill-Murray on Saturday.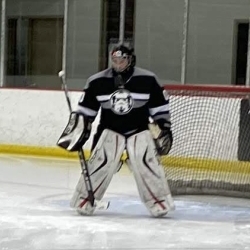 Filling in Bill's net Sunday was current D1 Troopers goalie, C2 Troopers skater, and former C3 Ak Bars captain Larry Curtis. Larry has been a friend of the Spiders dating back to the Spiders' and Ak Bars' very first winter season in the league as well as the Enken Bears Hockey Club that was the funnel for many players on both teams getting back into hockey at the time.
The Flying Hellfish have found the W column only twice this season, both victories over the Ice Hawks, and are otherwise having a season that should look very familiar to the 2018–19 Spiders, going 2–15 so far.
The Hellfish's goalie, Ken Youngdahl, formerly of the Sled Dogs, and three-time Spider sub goalie, arrived late to the Eden Prairie ice, and didn't get a warmup. Instead, the Spiders' offense got him warmed up with a three-goal first period, including two from D-man Jon Pappone.
The Hellfish got some offense of their own, as the Spiders were also proficient in turning the puck over, with the first period ending 3–2.
The Spiders tightened up their breakout in the second, leading to three more tallies, and none against, with Larry making great saves. And the Spiders' offense got to take a much needed break to kill off an Andres penalty to close out the second up 6–2.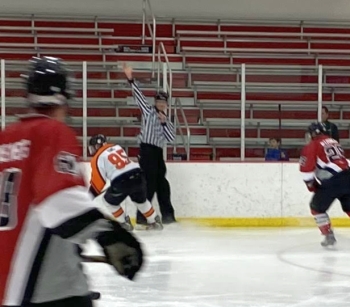 The third period saw the Spiders score twice quickly, before the Hellfish answered back on yet another turnover. But from there, it was all Spiders, getting the score to run time eligibility, though ref Scott Johnson (who incidentally reffed his very first AHA game at Eden Prairie) apparently wanted to see the Spiders get to double digits, and neglected to discuss it with the Hellfish captain. And with 44 seconds to go, zero hats rained down on the Eden Prairie ice surface, despite there being a crowd of at least four in attendance, as Eric Grotbeck got the second hat trick of the season for the Spiders. (Mike Schroeder got the first, back in November vs. the still-in-first-place Hooligans.)
Final score: 10–3.
The Spiders sweep the Flying Hellfish on the season, with three victories, 4–1 on opening night, and 5–4 on decade-opening night.
It's the first double-digit offense for the Spiders in exactly NINE years, when the Spiders beat the Ice Gators 10–2 on March 4, 2011, one week before Daylight Savings that year. (The Spiders also notably beat the Chaos 11–2 that season … but the record for goals still stands at 12, first set Jan. 10, 2007, vs. the Knights, and tied March 28, 2010, also vs. the Knights.)
It's also the first double-digit loss for the Flying Hellfish this season, as the most they had previously surrendered was six goals (twice).
The Spiders' record for Daylight Savings weekend: 8–4–1.
DST Games
Season
Game
Result
When
Result
2006–07
3/10/2007
Spiders 8, Buccaneers 5
(day before)
W
2007–08
3/11/2008
Spiders 1, Stars 3
(two days after)
L
2008–09
3/8/2009
Spiders 2, Lumberjacks 3
(day of)
L
2009–10
3/13/2010
Spiders 5, Wingmen 5
(day before)
T
2010–11
3/13/2011
Spiders 3, Gold Rush 2
(day of)
W
2011–12
3/10/2012
Spiders 6, Fighting Saints 3
(day before)
W
2012–13
3/10/2013
Spiders 2, Fighting Saints 6
(day of)
L
2013–14
3/8/2014
Spiders 4, Buccaneers 3
(day before)
W
2014–15
3/8/2015
Spiders 4, Wolfpack 1
(day of)
W
2015–16
3/13/2016
Spiders 3, Fighting Loons 1
(day of)
W
2016–17
3/12/2017
Spiders 2, Shame On Ice 1
(day of)
W
2017–18
3/11/2018
–Bye–
2018–19
3/8/2019
Spiders 3, Arctic Wolves 6
(two days before)
L
2019–20
3/8/2020
Spiders 10, Flying Hellfish 3
(day of)
W
Overall, the Spiders have performed admirably despite the usual lack of sleep by being an hour behind on Daylight Savings weekend, dating back to the 2006–07 season when DST Day first switched to the second Sunday in March, going 8–4–1 in those games.
This season, with the win, the Spiders improve to 7–8–2–1, still in 6th behind the Wildcats, and still permanently out of a playoff spot.
In the C3 West race, the juggernaut Hooligans are just one point away from clinching the division, and have a game in hand over the Spartans. The Troopers and Blade Runners currently hold the third and fourth spots.
2019–20 C3 West Standings (Week 18)
Team
GP
W
L
T
OTL
P
GF
GA
PIM
Hooligans –x
17
14
2
1
0
29
95
33
127
Spartans –x
18
12
4
1
1
26
63
37
96
Troopers
18
11
5
1
1
24
62
47
80
Blade Runners
17
10
6
1
0
21
66
63
136
Wildcats
17
8
7
2
0
18
56
62
119
Spiders
18
7
8
2
1
17
69
69
128
Ice Hawks
17
5
12
0
0
10
51
78
92
Nordeasters
17
4
11
2
0
10
44
82
74
Flying Hellfish
17
2
15
0
0
4
42
77
88

y = clinched division
x = clinched playoff berth
Next up, the Spiders can potentially catch the Wildcats and play a partial spoiler for their quest to get in the playoff mix. The Wildcats are on a bye and still have a game in hand, but sit just a game ahead at 8–7–2–0 in fifth, and could still eclipse the Troopers and Blade Runners to finish in third, depending on tiebreakers.
It's the earliest non-playoff game for the Spiders since March 8, 2009, at 1:30 p.m., also a DST Day game, as the Spiders snoozed their way to a 3–2 loss to the Lumberjacks.
This time, it's 2:55 p.m. vs. the Wildcats, at Highland for the fourth time this season.