Whitesnakes knocked off charts
Aug. 24, 2010

The AHA Summer League Whitesnakes, with D1 Spiders and friends comprising the roster, had a good run in the regular season, but went one-and-done in their only playoff appearance.
The team was plagued by the usual summer hockey ailments: short benches, creative officiating, lousy ice and — new this year — questionable '80s band names for team names. But the Whitesnakes managed to string together a solid season, going 10–2 in the regular season, outscoring their Level 4B (D1-equivalent) opponents by a 30-goal margin, 76–46.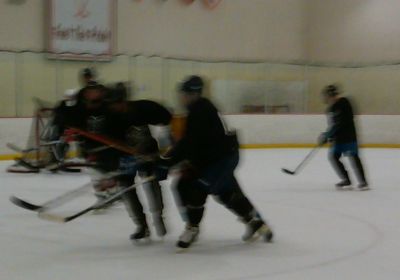 Following a four-win run to finish out the regular season, the Whitesnakes were stopped cold 5–1 by the Night Rangers (Fighting Piranhas) in what would be the Whitesnakes' lone playoff appearance.
Of note, the Whitesnakes finished at the top of every stat category in 4B in the regular season. Congrats to our award winners:
Point leaders:

Cory Vandenberghe and Brian Vesall, tied for first, with 18.
Christian Heitzman, tied for second, with 16.

Goal leaders

Brian Vesall, with 14, in first.
Cory Vandenberghe, tied for second, with 11.

Assist leaders

Jeremy Litton, with 11, in first.
Christian Heitzman, tied for second, with 9.
Eric Grotbeck, tied for third, with 8.
And Cory Vandenberghe and Grant Wold, tied for fourth, with 7.

PIM leaders

Chris "LaCosse" Flannery, with 22, in first.
And too many other to mention also on the list.
See full division leader stats, with lots more representation from the Whitesnakes.
In all, a great summer, and a great way to beat the heat, even if the humidity occasionally leads to clouds forming inside the rink.
Season recap
Standings
Summer 2010 Level 4B Standings

| Team | GP | W | L | T | OTL | P | GF | GA | PIM |
| --- | --- | --- | --- | --- | --- | --- | --- | --- | --- |
| Whitesnakes | 13 | 10 | 3 | 0 | 0 | 20 | 77 | 50 | 86 |
| Cheap Tricks | 13 | 7 | 4 | 2 | 0 | 16 | 46 | 39 | 38 |
| Night Rangers | 14 | 7 | 6 | 1 | 0 | 15 | 50 | 55 | 60 |
| Twisted Sisters | 13 | 6 | 5 | 1 | 1 | 14 | 48 | 33 | 105 |
| Cinderellas | 13 | 1 | 11 | 0 | 1 | 3 | 30 | 74 | 36 |
Scoreboard
Summer 2010 L4 Whitesnakes Scoreboard (Regular Season)

| Date | Time (CT) | Arena | Home | Result (Home) | Away | Result (Away) |
| --- | --- | --- | --- | --- | --- | --- |
| Sun, Jun. 6, 2010 | 6:15 p.m. | SLPE | Whitesnakes | 8 | Night Rangers | 5 |
| Mon, Jun. 14, 2010 | 9:10 p.m. | Wakota 2 | Twisted Sisters | 5 | Whitesnakes | 7 |
| Wed, Jun. 16, 2010 | 8:00 p.m. | SLPE | Whitesnakes | 12 | Cinderellas | 2 |
| Thu, Jun. 24, 2010 | 6:15 p.m. | SLPW | Cheap Tricks | 5 | Whitesnakes | 8 |
| Thu, Jul. 1, 2010 | 8:30 p.m. | Richfield 2 | Night Rangers | 6 | Whitesnakes | 4 |
| Wed, Jul. 7, 2010 | 9:45 p.m. | SLPE | Whitesnakes | 3 | Twisted Sisters | 2 OT |
| Sun, Jul. 11, 2010 | 6:15 p.m. | SLPE | Cinderellas | 4 | Whitesnakes | 6 |
| Tue, Jul. 20, 2010 | 9:00 p.m. | Richfield 1 | Whitesnakes | 4 | Cheap Tricks | 6 |
| Mon, Jul. 26, 2010 | 9:30 p.m. | Richfield 2 | Whitesnakes | 6 | Night Rangers | 3 |
| Sun, Aug. 1, 2010 | 7:45 p.m. | Breck | Twisted Sisters | 2 | Whitesnakes | 6 |
| Tue, Aug. 3, 2010 | 7:40 p.m. | Wakota 2 | Whitesnakes | 7 | Cinderellas | 1 |
| Sun, Aug. 15, 2010 | 9:30 p.m. | Breck | Cheap Tricks | 4 | Whitesnakes | 5 |
Summer 2010 L4 Whitesnakes Scoreboard (Post-Season)

| Date | Time (CT) | Arena | Home | Result (Home) | Away | Result (Away) |
| --- | --- | --- | --- | --- | --- | --- |
| Mon, Aug. 23, 2010 | 9:30 p.m. | Breck | Whitesnakes | 1 | Night Rangers | 5 |
Stats recap
Whitesnakes Player stats – Summer 2010 Season (Full Season)
#
Player
Pos
GP
G
A
P
PP
SH
GWG
PIM

C = Captain
A = Alternate Captain
S = Substitute player
G = Goalie
SG = Sub-Goalie

15
Caron (C)
D, LW
7
1
2
3
0
0
0
2
5
Cole
LW, C
11
2
2
4
0
0
0
0
11
Droullard
D, RW
11
2
3
5
0
0
0
6
4
Flannery
D
11
5
6
11
1
1
0
22
2
Fredrickson
D
6
0
2
2
0
0
0
2
13
Grotbeck
RW, C
13
3
8
11
0
0
0
8
8
Heitzman
LW, RW
9
7
9
16
0
0
1
2
9
Hofer
C
12
2
7
9
0
0
0
2
6
Litton
D
11
1
11
12
0
0
0
2
1
Montalvo (G)
G, D
9
0
1
1
0
0
0
0
10
Pellicci
D
9
8
3
11
0
0
0
0
16
Pettengill
D, C
7
3
4
7
0
0
1
6
18
Schlais
RW
9
4
3
7
1
0
0
8
7
Vandenberghe
RW, C
12
11
7
18
1
2
4
4
3
Vater
LW
9
2
4
6
0
0
0
2
17
Vesall
RW
13
15
4
19
1
0
1
16
14
Wold
LW
13
6
7
13
0
0
2
12
12
Yard
C, SG
12
5
2
7
2
0
1
4
Totals:
–
13
77
85
162
6
3
10
98
Whitesnakes Goalie stats – Summer 2010 Season (Full Season)
#
Goalie
GP
GA
Avg
Sh
Sv
W
L
T
OTL
SO

G = Goalie
SG = Sub-Goalie

Note: GA, Avg and Shots totals includes 1 empty-net goal, which is not charged to a goalkeeper.

1
Montalvo (G)
8
33
4.13
208
0.841
6
2
0
0
0
12
Yard (SG)
5
16
3.20
112
0.857
4
1
0
0
0
Totals:
13
50
3.87
321
0.844
10
3
0
0
0