2009–10 Season Recap
April 11, 2010
In the team's fifth full AHA Winter season, and third at level D1, the Spiders finished the regular season with a 10–8–2 record (22 points), in a tie for fourth place. In the final game of the regular season, the Spiders stole a playoff spot from their opponent, the Fighting Ice Fish, thanks to AHA tiebreaker rules, to make their second consecutive post-season appearance in D1.
In the playoffs, the Spiders went 1–1–1 (3 points), and were eliminated by one point from advancing to the semi-final.
This was the team's third winning season, with last year's D1 Champion squad, and 2006–07 representing the two others.
Regular season standings: 10–8–2, with 22 points.
Post-season standings: 1–1–1, with 3 points.
Full season standings: 11–9–3, with 25 points.
As is the Spiders' club tradition, like last year's season recap, here are the season's notes and numbers:
Note: Although the Spiders saw post-season action this year, this recap focuses on the regular season, with playoff stats indicated in italics.
Team stat highlights
Goal stats
Most goals for:

12, vs. Knights (3/28/10)

Fewest goals for:

0, vs. Fighting Piranhas (11/22/09)

Most goals for in loss:

Fewest goals for in win:

2, vs. Sled Dogs (12/20/09)

Most goals against:

9, vs. Diablos (3/7/10)

Fewest goals against:

0, vs. Sled Dogs (12/20/09)

Most goals for in a period:

6 (third period), vs. Knights (3/28/10)

Most goals against in a period:

4, vs. Wingmen (first period; 12/12/09)

Most Power-Play goals for:

1 (tied – 4 games)

Most Power-Play goals allowed:

3, vs. Chaos (10/24/09)

Most short-handed goals for:

1 (tied – 7 games)

Most short-handed goals allowed:

1 (tied – 3 games [plus one more in playoffs])

Number of games where opponent scored first:

8 (plus one more in playoffs)

Number of games where opponent scored first and Spiders won game:

Number of games where Spiders scored first and Spiders lost game:

Number of games where Spiders scored first and game ended in tie:

Average number of goals allowed before Spiders' first goal in games where opponent scored first:

2.14 (2.57 including playoffs)

Quickest first Spiders' goal:

Latest first Spiders' goal:

3:38 remaining in third period, vs. Chaos (10/24/09)

Quickest first opponent goal:

At 16:44, 16 seconds into first period, vs. Wingmen (12/12/09)

Latest first opponent goal (not including shutouts):

At 1:27, 15:33 into third period, vs. Fighting Ice Fish (1/17/10)

Highest number of goals allowed before Spiders scored:

3 (three times [plus once in playoffs])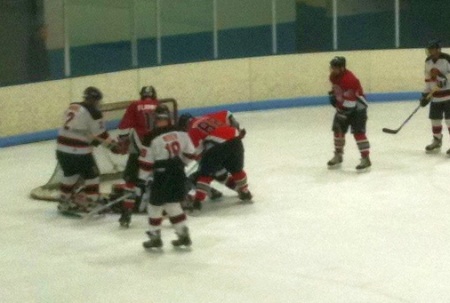 Results stats
Wins with one-goal margin:

1

Wins with two-goal margin:

3

Wins with three-goal margin:

1

Wins with four-goal or more margin:

5 (plus one more in playoffs)

Losses with one-goal margin:

2

Losses with two-goal margin:

2 (plus one more in playoffs)

Losses with three-goal margin:

2

Losses with four-goal or more margin:

2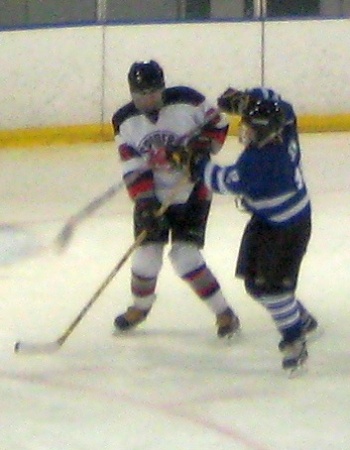 Shots stats
Most shots for:

Fewest shots for:

Most shots for in loss:

Fewest shots for in win:

Most shots against:

Fewest shots against:

Most shots against in win:

Fewest shots against in loss:

Most shots for in a period:

Fewest shots for in a period:

Most shots against in a period:

Fewest shots against in a period:

Highest shots-to-goals percentage:

Lowest shots-to-goals percentage (in non-shutout):

Most shots blocked (in a single shift):
Penalty stats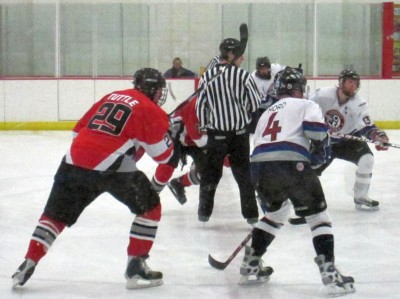 Most penalties by Spiders:

10, vs. Fighting Piranhas (20 PIM; 3/1/10)

Most PIMs by Spiders:

20 PIM, vs. Fighting Piranhas (on 10 penalties; 3/1/10)

Most penalties by opponent:

9, vs. Wingmen (26 PIM; 3/13/10)

Most PIMs by opponent:

26 PIM, vs. Wingmen (on 9 penalties; 3/13/10)

Most penalties in game (both teams combined):

16, vs. Fighting Piranhas (32 PIM; 3/1/10)

Most PIMs in game (both teams combined):

36 PIM, vs. Wingmen (on 14 penalties; 3/13/10)

Number of games where Spiders had no penalties:

1, vs. Lakers (2/21/10)

Number of games where opponent had no penalties:

1, vs. Sled Dogs (3/20/10)

Number of games where Spiders had more penalties than opponent:

13 (plus 3 more in playoffs)

Number of games where Spiders had fewer penalties than opponent:

7

Number of games where Spiders and opponent had equal penalties:

0

Most frequently called penalty (including opponent penalties):

Tripping (called 42 times; plus 5 more times in the playoffs)

Most frequently called penalty (on Spiders):

24 times, for tripping (plus 3 more times in the playoffs)
(The rest: Interference – 15; Hooking – 13; Roughing – 9; Checking – 6; Holding – 5; Slashing – 5; High-sticking – 4; Cross-checking – 2; Misconduct, too many men, delay of game, throwing the stick – all 1)

Most frequently called penalty (on opponents):

18 times, for tripping (plus 2 more times in the playoffs)
(The rest: Checking – 13; Roughing – 12; Interference – 9; Hooking – 4; Slashing – 3; Cross-checking – 3; Misconduct, checking from behind, elbowing – all 1)
Bench stats
Largest roster:

18 skaters, vs. Fighting Ice Fish (4/1/10)

Shortest roster:

12 skaters, vs. Lakers (2/21/10)

Largest opponent roster:

17, vs. Nighthawks (11/7/09)

Shortest opponent roster:

12 (unofficial – no scratches; see AHA rule 701), vs. Knights (3/28/10)

Average Spiders roster:

14.3 skaters (Playoffs: 15 skaters)

Average opponent roster:

14.05 skaters (Playoffs: 14.67 skaters)

Largest negative roster differential:

-4 skaters, vs. Lakers (2/21/10; 16 skaters–12 skaters)

Largest positive roster differential:

+4 skaters, vs. Fighting Ice Fish (4/1/10; 18 skaters–14 skaters)

Average roster differential:

-0.25 skaters

Largest dressing rooom:

Braemar, and West Side (West Side??)

Coziest dressing "room":

Oscar Johnson

No dressing room (or parking...)

Augsburg

Coldest ice:

Oscar Johnson (1/10/10)

Warmest ice:

New Hope North (3/20/10)

Lousiest ice:

Too many to mention (Breck [4/1/10 only], New Hope N, Richfield 1, etc.)

Number of games played on Olympic ice (200′x100′):

3

Number of wins in games played on Olympic ice:

1

Best post-game beer:

Bunny's (4/10/10)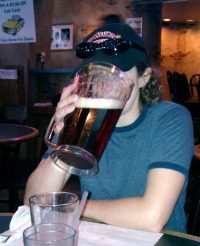 "Beer" at Bunny's
Player stat higlights
Scoring
Most goals:

12 (tied), Chris Flannery [plus 2 in playoffs; total: 14] and John Pellicci

Most assists:

13, Luke Baker [including 3 in playoffs: 15, Christian Heitzman]

Most first assists:

11, Christian Heitzman [plus 2 more in playoffs]

Most second assists:

5, Luke Baker

Most points:

21 (tied), Christian Heitzman, Luke Baker
[including 3 in playoffs: 24, Christian Heitzman]

Most goals per game:

4 (tied), Chris Flannery (2/14/10 vs. Nighthawks); John Pellicci (3/28/10 vs. Knights)

Highest average goals per game played:

1.00, Aaron Bedessem (10 goals in 10 games)

Most assists per game:

Highest average assists per game played:

0.9, Aaron Bedessem (9 assists in 10 games)

Most points per game:

6, Luke Baker (2/14/10 vs. Nighthawks)

Highest average points per game played:

1.9, Aaron Bedessem (19 points in 10 games)

Highest average points per game played (for non-sub):

1.18, John Pellicci (20 points in 17 games)

Most power-play goals (season):

1 (four-way tie)

Most short-handed goals (season):

2 (tied), Chris Flannery and Aaron Bedessem

Most game-winning goals:

2 (tied), Luke Baker, Chris Flannery and Cody Yard

Most assisted goals:

12, John Pellicci

Most unassisted goals:

Most frequent scoring combo:

12 goals, the line of Chris Flannery, Aaron Bedessem and Christian Heitzman
Penalties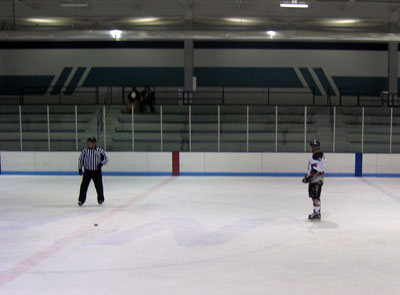 Most PIM:

Regular season: 26, Paul LaCosse (on 9 penalties; second year running; third time career)
[Including post-season: 28 (tied), Paul LaCosse (on 10 penalties) and Chris Flannery (on 14 penalties)]

Most penalties (quantity):

10, Luke Baker (20 PIM)
Including post-season: 14, Chris Flannery (28 PIM)

Most PIM per game:

14, Paul LaCosse (12/6/09)

Most penalties per game:

3, Chris Flannery (3/1/10)

Highest average PIM per game played:

1.73 per game, Paul LaCosse (closely followed by Chris Pettengill, 1.14; Luke Baker, 1.11; and Chris Flannery, 1.06)
[Including playoffs: 1.56, Paul LaCosse, (closely followed by Chris Flannery, 1.4)]

Most misconducts:

1, Paul LaCosse

Most retroactively assessed (i.e., post-game) misconducts:

0!

Most penalties leading to opponent goals (season):

3 (tied), Jim Tuttle and Luke Baker
[including playoffs: 4, Jeremy Litton]

Most offsetting (even-strength) penalties (season):

2, Ryan Herman

Fewest penalties (by non-sub):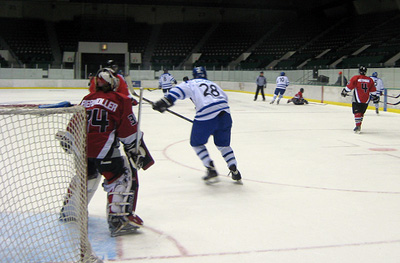 Goaltending
Most saves per game:

Fewest saves per game:

Most saves per game in loss:

Fewest saves per game in win:

Most saves per game in win:

Fewest saves per game in loss:

Most shutouts in season:

Highest goals against average (for non-sub, but non-full-time goalie):
Attendance
Most games played:

20, Christian Heitzman [plus 3 in playoffs; total: 23]

Fewest games played (by non-sub):

12, Nick Ungaro [plus 2 in playoffs; total: 14]

Most on-ice season-ending injuries:

0!

Number of games (GP per player, per game) missed due to suspension:

0!

Largest audience:

32, St. Louis Park (4/10/10)
ESPN's Top 10 of the season:
Most-impressive goal:

Most-impressive shorthanded goal:

Most-impressive goal (waved off):

Most-impressive Hat Trick:

Most-impressive goal against:

Least-impressive goal against:

Most-impressive penalty:

Most-impressive penalty (for penalty shot):

Most-impressive save(s):

Most-impressive save attempt (by non-goalie):
Point leaders
Christian Heitzman

#9 (4-way tie), 21 points

John Pellicci

#12, 20 points
Goal-scoring leaders
Chris Flannery

#8 (6-way tie), 12 goals

John Pellicci

#9 (6-way tie), 12 goals
Assist leaders
Luke Baker

#6 (tie), 12 assists

Christian Heitzman

#7 (tie), 12 assists
Penalty minute leaders
Paul LaCosse:

#5 (tie), 26 PIM

Luke Baker:

#12 (5-way tie), 20 PIM
Goalie Stats
Amber Obermoller

#4 – Wins (10)
#4 (five-way tie) – Shutouts (1)
#5 – Sv% (0.884)
#6 – GAA (3.18)
#7 – GA (54)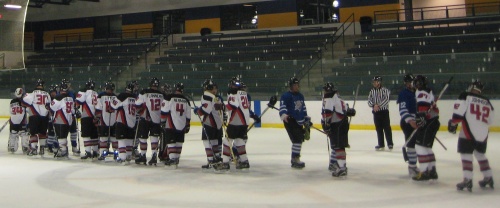 Game-by-game stats